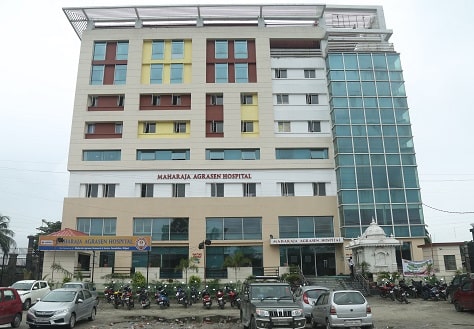 WHO WE ARE
Siliguri a prosperous city of West Bengal situated on the foot hills of Himalaya is bounded by river Mahananda on one side and river Balasan on the other. It is also the gateway for North-East India, Sikkim and Bhutan. Administratively it is connected by two districts via Darjeeling and Jalpaiguri. A city of Bengali, Hindi, Nepali and other language speaking people is situated on the close proximity of China, Bhutan, Nepal, & Bangladesh.
It is politically and diplomatically an important place. For these reasons the population is increasing and the city is developing day by day. In spite of all these, Health Service in the city is not available to general people at affordable and reasonable cost.
In the year 1983 with the vision of "Sarvay Santu Nirmaya" in mind, Sri Jagdish Prasadji Bhupal and members of his family generously donated 3,209 Square Meter of land to Siliguri Jaycees under the leadership of the then president Sri Nirmal Kumar Agarwala in presence of his holiness Swami Dhuravanandji Maharaj for the purpose of building a Multi – Speciality Hospital in Siliguri (Fulbari), West Bengal.
In the year 2011-2012, the members of Siliguri Jaycees Research & Service Foundation Sri Shyam Lal Agarwal and others decided to amend the name of trust into Maharaja Agrasen Research & Service Foundation and continue the dream of building a noble hospital project.
Three lands measuring 9,247 sq. mt. in total have been further purchased in the radius of 1 Km of the project site for the purpose of making doctors' residence, nurses & Staff hostel, paramedics & nursing training centre and lodging facility for patients' attendants. The construction work had commenced from 1st day of March 2013 and is under full swing. We request you to visit our project site at Siliguri (Fulbari), West Bengal and witness the work in progress. The hospital services have commenced from 6th February 2017. The estimated cost of the project in first phase is 45 crores. This is only possible with the support of charity loving person like you.