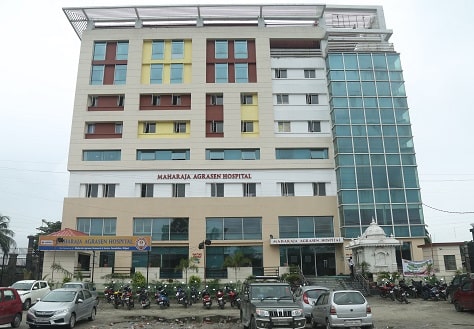 When you or a family member is ill or injured, where do you turn?
If you're like most in our community, you go to a privately-owned nursing home. Because you know you will receive absolute top notch medical care.
The poor and needy around Siliguri have nowhere to go to for decent medical care. There is not a single multi-specialty charitable hospital in the region. Maharaja Agrasen Hospital, once completed will be able to offer quality health care at affordable and often concessional price to people from as far as Bhutan, Eastern Nepal, Assam, Sikkim, Dooars and the Hills.
Thanks to your contributions, our care-givers could touch the lives of thousands – whether they face an urgent need, a devastating disease or seek to improve their quality of life. We exist to serve you and your loved ones – to provide hope, healing and recovery.
In this uncertain economic time, the Hospital counts on your support – now more than ever.
Your gift is extremely important to Maharaja Agrasen Hospital because it will provide resources that will make an immediate impact – that will help us through these interesting – and tough – times.
Your gift of Rs. 5,000, 10000, Rs.50000, Rs. 1,00,000, Rs.5,00,000 and more can make all the difference…. to bring health and vitality in the lives of people who would otherwise have little or no access to quality medical care.
And if you'd like, you can specify your gift to a particular department or facility – CCU, ICU, Hospital beds, AC and normal cabins, hospital equipment, Modular OTs – where ever you choose. Please consider making as generous a gift as you can.
As medical care advances, your hospital will remain committed to staying at the cutting edge – for you, for your loved ones, for every person in the community. Please help to make this possible with your contribution.
Your donation will make a world of difference. We promise you.
Please send your Cheques/Drafts to Our Liaison Office :
Maharaja Agrasen Research & Service Foundation
Sunny Tower
6th Floor, Flat No. 6A Sevoke Road,
Siliguri-734001
Dial-9832699447
NEFT / RTGS Details for Donations to Maharaja Agrasen Hospital :
Bank's Name : Bank of Baroda
A/C Holder : Maharaja Agrasen Research & Service Foundation
A/c No. : 29980 – 10000 – 2286
MICR Code : 734012002
IFSC Code : BARB0SEVOKE
PAN : AADTM0644D